I've just returned from URI's Homecoming Weekend, and as always…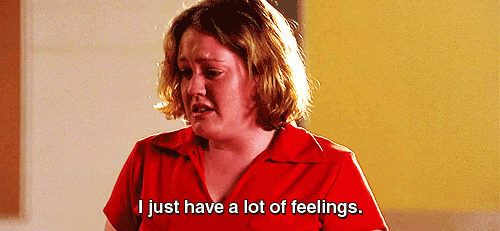 The flurry of feelings was heightened with the realization that this is the tenth anniversary of my start at URI, and I've had ten years to grow out of the pangs of homesickness, crushing self-doubt, and hesitant freedom that accompanied my freshman year. But in honor of my weekend trip down Memory Lane, I give you ten things I miss about my time at The University of Rhode Island.
(1) (Seemingly) eternal comfort.
You'll notice, I'm wearing pajama pants. And if you consult my photos from my three years on campus, you'll likely assume I didn't own actual pants. It was sweatpants or pajamas NONSTOP from 2004-2007, save for formals and when my parents visited. I may never know such comfort again on a regular basis, and I miss it often.
(2) The costumes.
Man, you could wear a costume anywhere. Themed party? Sure. Residence hall program? Okay. Relay for Life? Yup. Bowling? Fine. We even went semi-formal just to go to bingo at Foxwoods in Connecticut. Why? Why not?
(3) Information at your fingertips…via phone.
I had the pleasure/horror of explaining to a group of freshmen this weekend that Facebook didn't exist when I started college. And that's true- I was invited to join by a high school friend of mine in the spring of my freshman year. Prior to that, we got campus announcements through our landline phones. I still remember checking my messages to hear the feigned majesty of my voicemail: "These are your Rrrrraaammm Connections!" Yup.
I may never get to a point where I call a pizza place or sandwich joint and can make an order based on recognition of my phone number. But that existed in college, and I miss it sorely.
The best part? If it snowed, and we suspected that we weren't going to have class, we were instructed to call (401) 874-SNOW. To this day, I always get an urge to call 874-SNOW if I think a Nor'easter might leave my friends who work on campus stranded at home. And, full disclosure, about 40% of the time I just call.
(4) The Enrollment Services line ritual.
I have extraordinary patience for waiting in lines. Up until recently, I never really remembered where I learned how to quietly sit in a line without huffing, complaining, or even hurting my neck my focusing intently on a phone. But then I remembered- as with so many other things, I learned it in college. Each semester, I packed a bag with a book and snacks, and headed to Enrollment Services to deal with my tuition bill and make sure all my scholarship money had "hit" my account.
While I hated it at the time, it's one of those lessons that I'm glad I learned. I can wait pretty much anywhere patiently now, so thanks for that Rhody!
(5) SEC's Winterfest and Springfest.
The end of the semester each year brought a week of events designed to bring everyone out of their rooms, away from their books, and out of the funk of finals to laugh, dance, and smile. Winterfest and Springfest brought some of the best times with friends that I ever had- being on the committee that planned the events each year was all the more fun. Whether if it was something as silly as posing for "butt sketches," or something as dream-fulfilling as getting to meet and work with Seth Meyers and Kenan Thompson, the promise of those two weeks at the end of each semester kept me going during some rough times. We all need something to get us through, and those weeks did it for me.
(6) Alumni Association Winter Gala.
As part of our campus Student Alumni Association, we had the opportunity to work toward volunteering at the Alumni Association's Winter Gala. It was a fundraiser for the school where alums of all ages came back to get dressed up, catch up with one another, and dance the night away with the people they spent their college years with so long ago. I remember going to the event, watching the older adults dancing and laughing as they reminisced, having such a hard time imagining what being "that old" would be like. Turns out I'm close now…it's not bad 🙂
(7) My "offices."
I worked on campus for my entire college career, so I got used to "going to work" fairly early on. Of the offices that I worked in on campus, the one for the Student Entertainment Committee was the one I spent the most time in. I still remember walking in tentatively my first day to pick up my decision letter, at the time not knowing if I had gotten the job. After I opened the envelope, and found out I had been selected, I spent my whole first day there. Seven hours, just waiting for others to pick up their letters and find out who I'd be working with. Some of the people that wandered in that day and opened their letters to good news are my best friends to this day. Things on campus change between visits, but that office always feels like home when I pop in to say hello.
(8) Building traditions.
One of the things you miss the most when you leave college to go to the working world, is starting over. You're at the bottom of the totem pole and because of that, your ideas don't always get treated with much value. But I always loved being able to be a part of new traditions in college. When I was Business Manager of the entertainment committee, I decided to run our constitutional review meeting with a soundtrack…and that was okay. When Midnight Madness was phased out, I was one of two chairs that got to help transform it into Rhody Rally, a pep event for all fall sports. I worked at a school that worked (and works) hard to make sure students feel heard, and feel empowered to make change. There are moments in my everyday work that I truly miss that sense of agency.
(9) That campus feel.
There's not a great way to explain this one. But I went to a beautiful, beautiful campus. I was really fond of walking around campus on a nice day, especially in the fall (because I grew up in Florida and leaves there go from green to brown to dust) and take pictures. I never get tired of doing that. I went to grad school at the University of South Florida which, while great, is far from a "pretty" campus. It's very industrial, and modern. But URI looks the way I always imagined college would look when I was growing up. I've seen it so many times, and yet it always blows me away every time I go back.
(10) I found my second family.
I'm not exaggerating when I say some of the best people I know, I met in three years in southern Rhode Island. I spend a great deal of my time now hanging out, and continuing to grow up with, my fellow RAs, former campus coworkers, tour guides, orientation leaders, and more. I continue to marvel at the people we've all become, and I'm so thankful that URI made them a part of my life.
Honorable Mention: I would be remiss to talk about URI without making a reference to Helen, a legendary CVS employee at the campus location who passed within the past year. She was a staple of the Rhody experience for so many, and I have to make sure she's mentioned here. Nonni, visits back to campus aren't the same knowing you're not going to be there to wish us "a excellent."