Thanksgiving often doesn't get the rep it deserves. Because it's smacked in between Halloween and Christmas, sometimes people start playing festive music and putting up lights that they forget there's actually a holiday dedicated to "giving thanks" and spending time with friends and family that shouldn't be taken for granted.
In fact, you probably looked forward to Thanksgiving break in undergrad more than winter break because it was a nice, well, break in between school and exams. There's just something so different about being at home for the holidays, and we should take these 13 reasons to be thankful why we have a day like this in the first place:
1. It's a holiday dedicated to EATING FOOD
So go ahead, grab a second (or third) plateful of all the traditional fixings. Wear a chunky sweater to hide your food baby and just tell yourself your diet starts the next day.
2. There's so many leftovers
3.  Black Wednesday
You're not in undergrad anymore, so maybe that whole scene really isn't for you. However, you may have a shortened day of work (and you don't have to go into the office the next day), so uncork a bottle of vino or crack open a cold one and relax. It's the first major holiday you've had off since Labor Day, and you've definitely earned some PTO.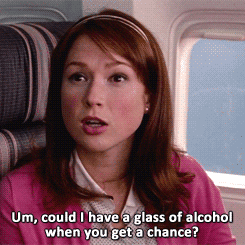 4. Thanksgiving-themed TV specials
If you do decide to stay in on Wednesday, be thankful for the crazy-good holiday TV specials. From Charlie Brown Thanksgiving to SNL's Thanksgiving special, you've got a perfect evening in front of you. And of course, the annual Friends Thanksgiving episodes (I'm partial to the one with Brad Pitt) always make for classic television.
5. Friendsgiving
Try your hand at cooking the traditional feast with your friends. Food+wine+great company= a great way to start the season (well, before it gets awkward with your family on Thursday).
6. Spending time with family
Yes, you'll most likely run into awkward situations with your extended family (as you do every year). Don't worry about work, what you have to get done the next day and why Aunt Edna keeps asking when you're going to get engaged or give her a niece or nephew. Think of it as an annual family gathering with good food and good wine. Lots of good wine.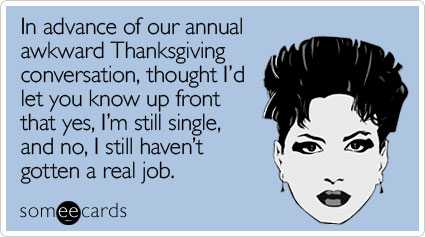 7. Did we mention the food yet? 
8. The Macy's Day Parade 
When are you going to see giant balloon heads (and tiny bodies) floating across NYC, along with A-and-B-list singers belting out holiday tunes for 30 seconds?
9.  Football
Be thankful to watch hot men in tights tackle each other on a field (in 30-degree weather) while you're still in your sweatpants.
10. If football's not your thing, there's always the annual dog show
While Fido aims to please, some are just there for a good laugh.
11. Pumpkin Pie
As if we don't love pumpkin enough in fall, we get to eat it in PIE form.
12. Black Friday and Cyber Monday
Holiday shopping discounts on discounts you almost don't know where to go first. It's almost like a sporting event.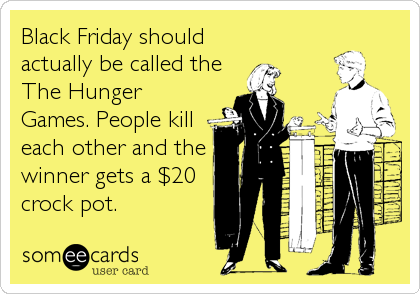 13. There are only 27 more days until Christmas
But who's counting?