1. You can eat whatever you want, whenever you want, and not be judged.
2. It is perfectly acceptable to eat Nutella all day.
3. You don't have to deal with dinner reservations, finding the perfect outfit and giving the perfect gift to your significant other.
4.  Instead, you can grab your single girlfriends, put on a sexy pair of heels and hit the town. 
5. Or, you can stay in and eat junk food and watch a rom-com (or 5). 
6. There are sooooo many things to bake! Thanks, Pinterest.
7. Chocolate. ALL OF THE CHOCOLATE. 8. YOU CAN GET YOUR DRANK ON.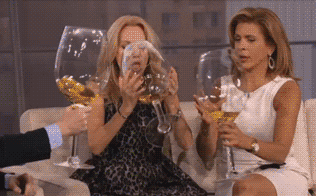 9. You can always send yourself flowers and chocolate, like Cher in "Clueless". Your co-workers will be dying to know who your "secret admirer" is.
10. Because "Leslie Knope's "Galentine's Day" is totally a holiday, you can celebrate it ALL. YEAR. LONG.
11. You can take the night to pamper yourself because you deserve it, girlfrand!
14. You still have love in your life, so you surround yourself with that!
Your parents, your BFF, your pet…you get the idea. Being single is not the end all-be all as you have everything that's so much better than a significant other right in your inner circle. And bonus–more candy the next day!