The last unofficial days of summer are upon us (if you'd even call it a summer), so now's the only chance to head to the beach, soak up the sun, take in a baseball game (and the last of Summer Fridays!) and eat as much ice cream as you can.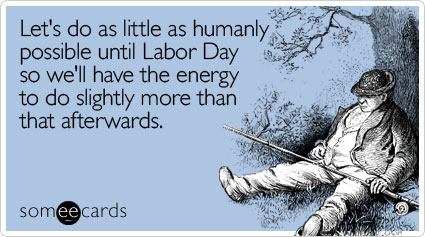 While you're at it, take a look at our Top 20 songs of the summer–perfect for celebrating Labor Day Weekend (and no work on Monday!):
17. Ariana Grande feat. Iggy Azalea, "Problem"
Ari had quite the summer. She had another hit single ("Break Free") and collaborated with Jessie J and Nicki Minaj (see #5)–all while trying to become the next Mariah/Britney.
16. Nico and Vinz "Am I Wrong"
Catchy and cool, the perfect summer song.
15. MAGIC! "Rude"
That song you love to hate and hate to love. Upon first listen, you'd think it's by a bunch of reggae/Bob Marley-types, but the Caribbean calypso vibe has us fooled–it's a bunch of white dudes. Still, we'll still be thinking about umbrella drinks until our toes start freezing.
14. Sam Smith "Stay With Me"
He's the male version of Adele–a voice from G-d, if you will. The heart-wrenching yet true lyrics make up this perfect summer love ballad. #Allofthefeels
And you NEED  to check out his cover of Whitney Houston's "How Will I Know".
13. Katy Perry, "This Is How We Do"
"Sippin' on rose, silver lake, sun coming up all hazy"
Yep, sounds like my kind of summer night.
12. Charlie XCX, "Boom Clap"
Chances are, you saw The Fault In Our Stars. And chances are, you heard the unofficial TFIOS theme song. (If you didn't see the movie, go read the book, but Shai Woodley is spot-on in this role)
11. Nicki Minaj "Anaconda"
Um, did you SEE her performance at the MTV VMAs? Sir Mix-A-Lot don't lie.
10. Lil Jon & DJ Snake, "Turn Down For What"
Any situation can be solved with #TurnDownForWhat
9. Iggy Azalea feat. Rita Ora, "Black Widow"
I-G-G-Y has also had a great summer on the music charts. She is definitely the girl of the summer. Rita Ora, in case you don't know, is the new Rihanna.
8. Calvin Harris, "Summer"
An ode to summer love.
7. Beyonce feat. Jay Z, "Drunk in Love"
Those marriage rumors are false. If you didn't get a chance to see her live this summer with her hubby, perhaps you may need to revisit her performance at the MTV VMAs…
#SURFBOARDT
5 Seconds of Summer, "She Looks So Perfect"
These guys are the NEW One Direction, except they're Australian and play instruments. Oh, if they only knew what a staple American Apparel was in college. #WeAreOld
5. Ariana Grande, Jessie J and Nicki Minaj, "Bang Bang"
The ultimate summer girl-power anthem.
4. Sia, "Chandelier"
You know her work (she penned "Diamonds" and accompanied David Guetta on "Titanium") and finally, we get to hear that beautiful voice in its fullest.
3. Iggy Azalea feat. Charlie XCX, "Fancy"
You already know.
The throwback "Clueless" video is, like, so much better than a Noxema commercial.
2. Pitbull, "Fireball"
You know Mr. 305 can throw a party when he's rapping about the best whiskey around.
1. Taylor Swift, "Shake it Off"
Tay snuck on this list by just a hair–saying buh bye to the #haterz and country music. And yet, we still love it.