Record lows were recorded in FL this weekend. And that record number was…wait for it…a frigid 52 degrees. We must be the laughing stock of the other 49 states. I do have to agree it was a bit nippy when compared to 85 degrees the previous day when I was rocking flippy floppies and a tank top. When these "cold" weather spurts come through, us Floridians have to make the most of it. This gives us the opportunity to pretend (more than we usually do) that it is fall. We can't help that we are jealous of those states with fall colors and leaf piles and sweater weather.
1. Eating and cooking all pumpkin everything (Trader Joe's helps in a big way here)

2. Adding a scarf to your outfit to accessorize.
3. Sitting on the patio with hot chocolate or cider.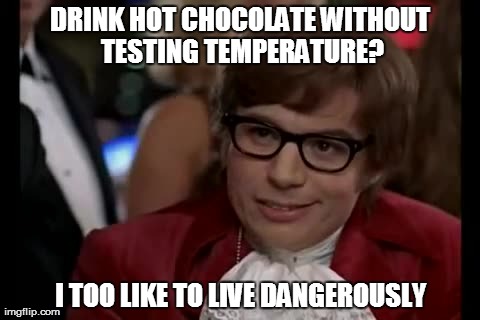 4. Using the fire-pit (next to your pool) and roasting marshmallows.
5. Using the seat warmers in your car.
6. Going to the beach in a sweatshirt.
7. Ceremoniously turning on the heat in your house for good measure.
8. Over-zealously applying Chapstick and moisturizer everywhere.
9. Taking out the heavy blankets to sleep with at night.
10. Talking an obnoxious amount about how cold it is.
11. Layering yourself in the office and using a blanket across your lap.
12. Staying in because it is too cold to go out.
13. Running to the store to take advantage of the sale on boots and then making plans around your new boots for that night.
14. Going to the (indoor) ice skating rink.
15. Wearing a plaid flannel shirt…with shorts of course.
16. Making sand angels.
17. Convincing your crush that is it perfect cuddle weather and you must seize the opportunity to "feel his sweater."