As the millennial age, we're all pretty attuned to social media. How could we not be? We're the generation that grew up alongside the Internet, and it's vastly changed over the years. In addition to the Internet, social media websites/apps have also matured with us. Whether you're on your computer or using your smartphone, every 20 something is on at least one social media platform – unless you're one of those people who vows to not have any social media presence (*rolls eyes into oblivion*).
The first social media sites date back to the early 90s, with the most prominent one being MySpace, which is still around to this day. Since then, social media has continued to grow in all different directions. Now that people have smartphones, it's even easier for developers to try out different techniques to see what sticks and what doesn't. There seems to be something new emerging everyday, though only the fittest survive.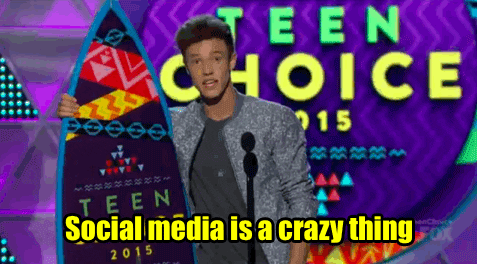 Here is a ranking of the top five social media platforms for 20 somethings.
---
1. Twitter
Twitter came about sometime in 2009. I had gotten it soon after its release, but it was nothing like how it is now. The site was barren in the sense that practically no one was on it — no celebrities, companies or brands. It didn't take long for it to become more popular, though. As of July 26, 2016, Twitter has over 313 million users, a number almost equivalent to the U.S. population. It also has 120 million monthly users. In fact, Justin Bieber has more followers than the entire population of Spain. It's reported that 350,000 tweets are sent out every minute, which is not so surprising. Platforms like Twitter have been heavily used in educating the masses on important topics, such as the current presidential election, police brutality and feminism. 2. Instagram
Founded by two Stanford grads in 2010, Instagram somehow beat Facebook in becoming one of the top contenders of social media. However, Facebook bought Instagram for $1 billion in 2012 when it still only had about thirteen employees.
Almost everyone I know has an Instagram, and it's use has almost become an art. People capture pictures at the right angle and moment, edit them to perfection and post them on their aesthetically pleasing feeds. Despite the fact that Facebook still contains more pictures due to its earlier start, more people frequent Instagram because it is easier to use. At first, it had only been a mobile app, but now you can like pictures online in addition to posting them. Recently, Instagram also added a story option where users can upload videos/pictures that will stay live on followers feeds for 24 hours. Sound familiar?
3. Snapchat
Snapchat seemed to come out of nowhere back between 2014 and 2015, though it was launched in 2011 by another pair of Stanford graduates (thanks, Stanford!). The idea behind the disappearing messages came to the founders after one of their friends regretted sending a photo to someone. Now the ten seconds or less pictures/videos have become a norm for having conversations with friends or just sharing mundane moments with our followers.
Per day, about eight million mobile videos are viewed on Snapchat. In fact, the app was ranked as the preferred social media platform by 37 percent of users between ages of 18 and 24. It has been reported that Snapchat has more than 100 million users, and about 400 million snaps are shared daily. Although their traffic surpasses that of Facebook and Instagram, Snapchat has fewer users than its competitor. With the new Instagram feature that rivals Snapchat, several people have taken to posting their Snapchat user names on their Instagram stories just to spite Instagram.
4. Facebook
Granted that Facebook inspired a critically-acclaimed film, as well more users and pictures than all other social media platforms, it's still ranked below the others due to how infrequent its usage has become. Don't get me wrong, people are still on Facebook. However, we don't use the app as much as we used to. I remember when I first got Facebook, I was more or less addicted. Now, I go on maybe once a day, or not at all. Same goes for several other 20 somethings I know. I think it's because the age group Facebook caters to has changed to a much older crowd (like our parents!).
Still, Facebook isn't hurting too much. Currently there are over 1.71 billion monthly active users, a number that has increased by 15 percent yearly. Furthermore, as of May 2014, 4.5 billion likes were being generated everyday, which was a 67 percent increase from the year before. With the added reaction buttons, I'm sure that number has since increased as well.
5. Tumblr
While Tumblr is pretty massive on its own, the least amount of social media users are utilizing this app. Still, its current users are mostly within the 18 to 29 age group. It's a blogging site that took over the Internet sometime between 2009 and 2010, becoming the growing home to many, many fandoms. 66 percent of all visitors are under the age of 35, while 39 percent are under 25. As of January 2014, it's been reported that there are more than 170 million blogs on the site and more than 72 billion posts on Tumblr. Statistics have also shown that an average visit on Tumblr is about 14 to 20 minutes, which is more than that of Facebook and Twitter. ---
Do you agree with this list? If not, tell me us what your ranking of social media platforms are!