1. Why are there so many spellings?
There's really no "correct" way to spell it–between an "H", or "Ch" or one "k" or two–it's basically the eight-day holiday where we get presents each night.
Rule 1 about Judaism: there is literally no wrong way to spell the word "Hanukkah". Even "Tonkatruck" is an acceptable spelling.

— Ben Ash (@BenJamminAsh) December 11, 2014
2. What do you do/eat on Hanukkah?
We play Spin the Dreidel (not to be confused with "Spin the Bottle"). The dreidel is a four-sided square/cube hybrid with a short handle, either in the form of wood or plastic (or, in the case of "The Dreidel Song", clay) and you "bet" money (in the form of chocolate Gelt, or, if you're feeling adventurous, actual money) to see if the dreidel lands on one of the four letters from the Hebrew alphabet: "Gimmel" (All), "Hey" (Half), "Shin" (Put on in), or "Nun" (None).
So basically, we're teaching three-year-olds how to play poker.
We also eat these beautiful and scrumptious things called latkes (essentially potato pancakes) and sufganiyot (jelly-filled donuts). Also the reason why our grandma's been peeling potatoes for the past week and a half and her house smells like oil.
3. Why is Hanukkah on a different time every year? 
On Hanukkah, we light the menorah each night for eight days to commemorate the oil that burned for eight days during the Greek-ruled Holy Land era. One candle on the first, two on the second, and so on.
The Jewish calendar follows the lunar and calendars, which means the lunar months must align themselves with the seasons of the year, so each Jewish holiday is at a different time each year.
Don't remind us of Thanksgivukkah, because that was most definitely the worst idea ever. And it's a good thing it won't happen again for at least 75,000 years.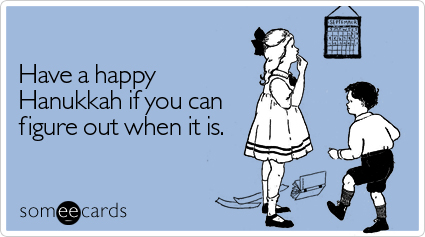 4. Are you jealous you don't get to decorate a Christmas tree?
While we don't wear matching pajamas when opening presents or have ugly Christmas sweaters, we do break out the blue and white decorations for our Hanukkah bushes, which we deliberately spray with Manischewitz.
Just kidding. They really doesn't exist. So yeah, we are a little jealous, but we decorate our menorahs much better, no contest.
5.  What about Hanukkah movies or TV specials? 
We'll let Ross "The Holiday Armadillo" Gellar explain this one.
6. Aren't you sick of Christmas music? 
While we love Mariah's signature tune, we Jews have an anthem of our own in Adam Sandler's aptly-titled "The Chanukkah Song":
"You don't need 'Deck the Halls' or 'Jinglebell Rock'/Cause you can spin the dreidel with Captain Kirk and Mr. Spock!"
7. If Santa doesn't give you presents, who does? 
Move over, Elf on a Shelf. There's a new guy in town, and he goes by the name of Mensch on a Bench. For those who don't know, a "mensch" is a really good person. Aka, the person who really exists and eats your sufganiyot and latkes and puts your presents by the menorah.
8. What do you do on Christmas?
We go to the movies and eat Chinese food. It's tradition and the Chinese love the Jews–they're the only restaurants open.
In the words of Adam Sandler, "Drink your gin and ton-akkah and have a happy, happy, happy, happy Hanukkah!"