Most people know that winter is the worst. However, there are a select few who actually enjoy the cold weather and winter season. Because…
1. Awards Season is the most wonderful time of the year
Forget the holidays–there is honestly nothing better than awards season. The red carpet, live tweeting the event, best and worst dressed, the host(s) –there's no better way to spend three hours lying on the couch on a Sunday evening (and makes for great gossip in the morning!). The Golden Globes, The Screen Actors Guild Awards, the Grammys and the Oscars are the indicators on the best of the best in movies, television and music.
2. Winter sports
While some people (myself included) love a warm weather getaway in the middle of winter, there are others who love to hit the slopes and attempt the bunny hill or the ice rink and become the next Gracie Gold. Bonus–an outdoor rink makes for a fantastic date idea.
Millennium Park, Chicago
3. Seeing the first snowfall is a magical feeling
Whether it hits in October or in January, there is no prettier sight than snow decorating trees. You feel like a kid again and can't wait to get your snow pants and boots and have snowball fights and make snow angels.
4. Hibernating with Netflix
So it's 30 below and you don't feel like moving? TGFN: Thank Goodness for Netflix. Catch up on that TV show you've been wanted to watch or pick a (really) bad movie to watch on a night in. And on that note…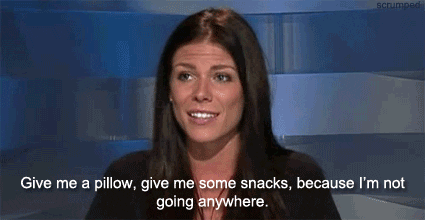 5. Staying in>going out
Staying in is soooo much better. You don't have to deal with bringing your coat to a crowded bar, paying for overpriced Uber rides home, and (gasp!) walking in heels in the snow. All you need is a good movie and a nice bottle of vino.
6. There are new drink recipes to try out 
The only way to warm up is to drink more. Hot Toddies, anyone?
7. It gives you motivation to work out
It's too effing cold to run outside (especially with all of those layers), so take the winter season to try a new class and get fit by the time the weather warms up.
8. There are no fashion rules
There might be days where you have to look like an abominable snowman (cough, #PolarVortex), but nobody will judge you because they're in the same boat. Wear winter white, boost your neutrals with bright accessories, put fuzzy socks on underneath your boots–the possibilities are endless. You can also take your summer dresses and skirts and winterize them with a pair of fun tights!