Amy Schumer is basically the older sister we never had. She's got her hit Comedy Central show Inside Amy Schumer, which details the "basic white girl" in all of us.
She takes her act to the big screen with "Trainwreck" (which she wrote and stars) opposite Stefon Bill Hader in a light-hearted rom-com that definitely parallels our twenty-something lives. Her character, aptly named Amy, seems to be a clear version of herself (and, well, all of us who aren't really ready to settle down). For someone who was told "monogamy isn't realistic" at a young age, she's sure lived up to that potential.
And judging from the trailer, this is one fantastic girls-night flick.
In reality, we've all got a little Amy in us. Here's why:
1. She's attempted to help her mother with technology
2. She wants to join Taylor's squad too
I think I'm on the cusp of being friends with Taylor swift

— Amy Schumer (@amyschumer) June 20, 2015
3. She deals with the pain of waking up after a night out the same way we do 
4. She knows when you feel that 3 p.m. burnout at work
5. She knows what Disney culture is REALLY like
6. She notices the little things, and yet still doesn't care
7. She's a brutally honest best friend
8. She handles controversy like a BO$$
Put down your torches before reading this so you don't catch on fire. pic.twitter.com/JyRQGvFuX8

— Amy Schumer (@amyschumer) June 28, 2015
9. She's obsessed with the Bachelorette So much that she went on this season
Oh no someone slept with a guy they're dating and considering marrying! Showing love for @kaitlynbristowe pic.twitter.com/ye15yYqAZq — Amy Schumer (@amyschumer) June 23, 2015
10. She is all of us at brunch
11. She makes hilarious versions of our favorite catchy boy band songs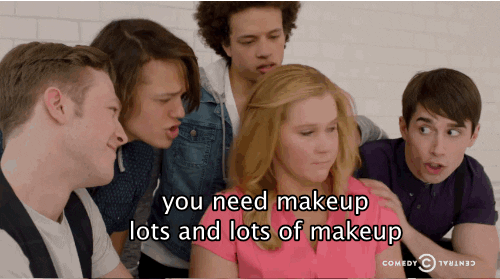 BUT also sent a powerful message with a lot of #nomakeup selfies. 
12. She gives a big "EFF YOU" to Hollywood's stick-thin standard
I am a size 6 and have no plans of changing. This is it. Stay on or get off. Kisses! pic.twitter.com/6IsEfFOwAD

— Amy Schumer (@amyschumer) February 12, 2015
13. She's not afraid to be the center of attention 
Thanks #TIME100 pic.twitter.com/bdAjImc5J5

— Amy Schumer (@amyschumer) April 22, 2015
14. She knows what makes the best Friday night