Dirty Dancing, the iconic cinematic masterpiece from the 80's, celebrated its 30th anniversary a few weeks ago. Hard to believe we've had the privilege to visit Kellerman's for only 30 years. Now I know what you're thinking, where are you going with this?
Take it from a girl who has seen Dirty Dancing more times than I would care to admit (or count). There is a lot to take away from this movie then dirty dance moves and appreciation for Patrick Swayze, although that's always warranted. Here are the life lessons Dirty Dancing provides.
---
1. When given the chance, always carry the watermelon.

If Baby did not carry that watermelon, she would have never met Johnny. What is a little heavy lifting compared to a whirlwind summer with a man who can dance? Follow Baby's lead on this one.
2. The best place to learn lifts are in the water.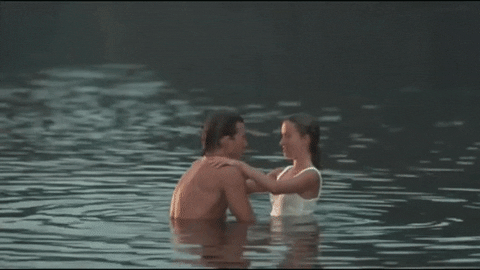 Did anyone else know this? Because I so did not.
3. Let loose every once in a while.

"Oh, come on ladies, God wouldn't have given you maracas if he didn't want you to shake them!" That pretty much sums it up for me.
4. Don't judge a book by its cover.

You can clearly see that lesson woven throughout this entire movie. Johnny looks like this tough, hard as nails guy but always treats Baby with respect and kindness. Also, the Shumachers. Who thought that cute little old lady could steal so many wallets?
5. Wait for your Johnny.

Take it from Baby when she was talking to her sister about going all the way with Robbie the Creep. "It should with someone you sort of love."
6. Don't be a Lisa.

Lisa, to me, is the one blemish on this movie. She fights with Baby for 90% of the film. She even almost celebrates when their father suddenly doesn't hold Baby as the favorite daughter anymore. She also insists on singing in the talent show when that girl cannot sing for her life. Don't be a Lisa. Support your siblings.
7. Dancing cures almost all things.

More than one scene in this movie features the staff of Kellerman's, Johnny and Baby dancing when things get stressful or just to have some fun. Never underestimate the power of dancing with your friends to make life seem just a little bit better.
Now to round out this list, the most important lesson of all…..
8. Nobody puts Baby in the corner.
Now do yourself a favor and go watch this movie!