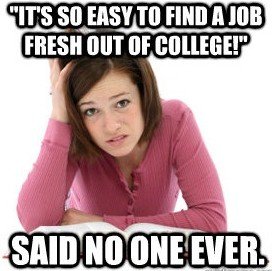 As a recruiter for a staffing agency, I have come across resumes that both make me want to laugh and cry. From people stating one of their strengths as being "emotionally stable," to others referring to their position at Subway as a "Sandwich Artist," I feel like I have seen the good, the bad, and the ugly. Here is a quick little guide for you new grads to get your resumes noticed and taken seriously. Some of these may seem like common sense, but I assure you that from my experience, they apparently aren't.
1. Create a gmail account using your name. You may have gotten attached to your college email, but there will come a time in the new future that it will no longer work. Also, I pray that your silly AOL or Hotmail email is long gone at this point…no one will ever take you seriously when your email has angel, princess, or baby in it.
2. Pick a font, format, and style for your resume and stick with it throughout. If you decide to change one part of it, then you must adjust it all. Otherwise, it looks sloppy and like you don't care. And please triple check for typos, because that just never looks good for you.
3. Use a font that is legible and doesn't hurt your eyes. You may think the cursive or the typewriter fonts are cute and fun, but when I have been looking at hundreds of resumes all day, those ones are just the worst. Don't make me dislike you based on your font choice.
4. Do not, I repeat, do not put a headshot on your resume. Unless you are attempting to be an actress, model, or newscaster, providing a headshot will just make recruiters laugh. Especially when it's one of you at the beach staring off into the distance…sadly, a true story.
5. Never put your resume in the body of an email, always attach it. When it is in the body, it is hard to read and often loses its formatting.
6. When you attach your resume to an email, ideally it should be a PDF. Word Documents are fine, but they can often add an extra blank page that you didn't notice or change up your formatting. However, PDFs will stay in the format that you set it and look more professional. Also, never send a resume that you created in notepad, that font is terrible and you will not be taken seriously.
7. Give your resume a real and proper name. Don't attach a resume that says "Ash New Res" or "Resume-5." Title the document as [Your Full Name] Resume. If you have different versions, that's when you add dashes, periods, and commas to differentiate them.
8. Don't try to make your internships or random retail jobs sound more glamorous than they were, we will see through that. In fact, if they have nothing to do with the type of job you are applying for, then just leave it out. I may have spent a summer selling food and drinks at my county fair but my future employer really doesn't care about or need to know that.
So there ya go, new grads! I hope that my experience as a professional recruiter has helped you out a little bit. The job search sucks so be sure to take any advice you can and utilize any connects that you may have. It's tough to ask for help, but when push comes to shove, you gotta do what ya gotta do.