The Fourth of July is a day for us to honor our independence and show our pride for our country. It's also a day off from work—and an excuse to rage. Sometimes the holiday falls in the middle of the week and we go to work hungover, but when it's during a three-day weekend, that means day-drinking, BBQs and more parties to celebrate this wonderful thing we call patriotism.
We've devised a list of 4 things to do to have a successful 4th. Break out the American flags—three cheers for the red, white and booze blue!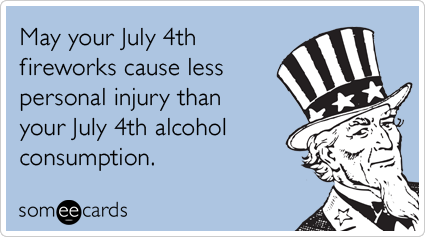 1. The Playlist
Mix these tunes in with your regular summer set list, and you'll be the DJ of the USA:
"America" Imagine Dragons
"American Girl" Tom Petty and the Heartbreakers
"American Pie" Don McLean (c'mon, you know the words)
"Born in the USA" Bruce Springsteen
"Party in the USA" Miley Cyrus (Kinda a given…)
2. The Recipes
Remember those Firecracker popsicles you had at camp during Fourth of July week ? Well, now that you're a twenty-something, I bet there's a recipe for a boozy version of your favorite summer treat. Check out Buzzfeed for ideas.
3. The Attire
Spread your Americana pride with those Old Navy flag tank tops. Go to Party City and grab some of those star-shaped sunglasses. Add red and blue beads. Wear a striped shirt and white shorts. Done.
American Flag Aviators, Shadesplus.com; Tank Top, Oldnavy.com
4. The Itinerary
Check out the parade. There's usually free candy and if there's one parade you should attend, it's this one. Go to the beach/pool/anywhere near a body of water. It's the only true way to enjoy the holiday. Then you can go back to your regularly scheduled shenanigans, which better include flipping burgers, drinking wine coolers, throwing water balloon fights, and watching fireworks.
Party like it's 1776. Happy Birthday America!