It's Back-to-School season, but there's one awards show to send summer off with a bang: The Teen Choice Awards.
I always looked forward to the TCA's, mostly because they were around my birthday and what everyone would be talking about the first day of school, and it was one of those awards shows where I knew every nominee and every performer.
I'm aware that I just watched the Teen Choice Awards and I'm about to turn 23. I have no shame.
One Direction opened the show singing "The Best Song Ever" (no, really, that's the name of the song), and it got me nostalgic thinking of when *NSYNC was up there ten years ago, when Justin Timberlake and Britney Spears were dating and won Choice Male and Female Hottie, respectively, and when there wasn't such thing as "twerking." Ahh, those were the days.
The Teen Choice Awards are the one show where everything is so laid back (I mean, they give surf boards to the award recipients), from the fashion and the red teal carpet to the super long speeches (I guess the producers don't believe in using trombones to cut them short). It's interesting that they have a wide variety of nominees, from Sandra Bullock and Kerry Washington (the "adult" actors) to some Australian singing sensation named Cody Simpson who I'm pretty sure is Aaron Carter's twin. Oh, and Ben Affleck was nominated as Choice Movie Actor, Drama, for "Argo". Most of these people can't even see a Rated R movie…
Here's what I learned watching the Teen Choice Awards as a Twenty-Something:
-Ashton Kutcher won Ultimate Award, but half the teens in the audience have no idea he was Kelso on That '70s Show.
-Jim Parsons, he of Big Bang Theory fame and Emmy winner (and Choice Male Comedy Actor), is now the proud owner of a surfboard, even though he said he doesn't surf.
-Just because you photobomb people doesn't make you a villain (cough, Adam Devine)
-Taylor Swift didn't win choice Breakout Song for We Are Never Getting Back Together". That was like the breakup song of all breakup songs.
-I'm pretty sure Bridget Mendler is Taylor Swift's clone.
Amiright?
-Fifth Harmony, the biggest girl group on X Factor, reminded me of the girl group Dream on Making the Band with Diddy…anyone else remember them?
-Glee won choice TV Comedy and Lea Michele won choice TV Actress. She literally broke my heart and was so poised and touching throughout her speech.
So beautiful and composed during her first appearance post-Cory. RIP.
-Abigail Breslin (aka Little Miss Sunshine) does not look good as a blonde.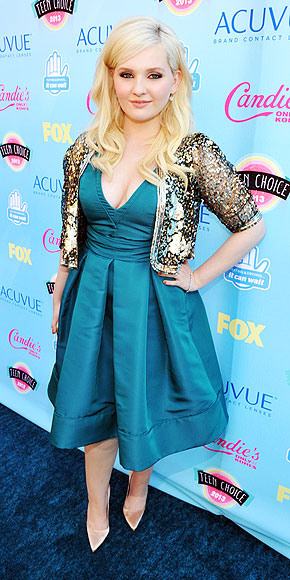 -I thought we went through our punk phase, Paramore.
-Teen Beach Movie is the new High School Musical. The lead guy definitely has the fwoopy Zac Efron hair.
-Kids love listening to a twerking girl sing about some girl named "Molly" all summer.
-I am definitely wayy too old to be watching this awards show. Thank goodness the Emmys are next month.
Make fun of me now, but I'll see you on the red carpet…eventually.