Watching an award show, reading a magazine, sitting in a meeting…there will always be that random name that comes up that makes you go like WAIT I think I know who that it is but…. let me Google. Here's your next "Wait…Who's That?", our daily reminder of that B+ to C- celeb that you definitely want to know, but just forgot.
Today's "Who's That?" is…
Rachel Frederickson
…Because she is causing MAJOR controversy for losing too much (155 pounds and 59%+ of her body fat) to win the grand prize of $250,000 on Tuesday's "The Biggest Loser" finale.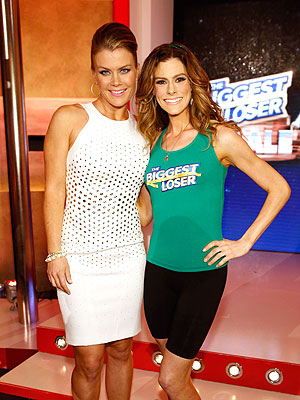 Rachel is a fellow twenty something who told Us Magazine that she had gotten up to 260 pounds following a devastating breakup that shattered her self-confidence. PREACH GIRL. She was also a high school swimmer.
Despite looking beautiful last night during the show's finale, Rachel has been getting backlash from critics and the media (and even the show's trainers) for losing TOO MUCH WEIGHT since leaving the ranch. (Red dress is how she looked the last we saw her)
I mean, the show is called "The Biggest Loser" and the purpose to lose weight. Contestants on "Survivor" don't get controversy for…surviving, even if that means stop doing normal human things, like being nice?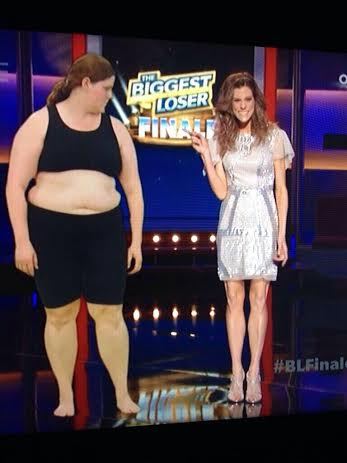 Being real. If somebody offered me the chance to win $250K to lose the most percentage of my body weight as possible, and I had even an ounce of self control, I'd fucking pull a huge black man with a rope. (Especially if I was unhealthily overweight, and wanted to get back at my ex by looking hot)
Also, the show is called THE BIGGEST LOSER. This betch lost, and clearly won…she looks great and I am sure just went in to one of those sweat booths over the weekend to lose those final 5 pounds that made her look a little scrawny.
Look how jealous the betch in the back row looks.
Rachel will look great after she gains back a few LBs. You Go girl, YOU GO.
NBC and the show's production company responded to the "scandal" today by showing support for Rachel and stating "We remain committed to helping contestants achieve healthy weight loss and live healthier lifestyles, and to inspiring viewers to do the same."