I'm ready.
That was Justin Timberlake's tweet last Thursday. In a one-minute YouTube video, JT announced he's heading back to music, something he's abandoned since 2006. Basically the only boy-bander with the best solo career, he's back and better than ever. But since it may have been a while since we heard any of his songs, let's take a trip back to memory lane and see the evolution that is Justin Timberlake.
1998-I Want You Back
One of the catchiest song of the *NSYNC era, this tune catapulted them to superstardom. We all know JT was the better "lead singer" than JC, and those blonde curly cornrows made tweenage girls crazy, way before Harry Styles' swoopy locks took over today's teenage generation. Also, Harry Styles was five. But any '90s girl knows that once this song comes on the radio, she stops what she's doing and just belts it out.
[youtube=http://www.youtube.com/watch?v=is6gtilerPk]
2000-Model Behavior
Justin makes his acting debut in the amazing Disney Channel Original Movie Model Behavior, playing (what else?) a hot male model.
2000- Bye Bye Bye
*NSYNC's sophomore album was all about being puppets, dolls and space cowboys. The first single off "No Strings Attached", "Bye Bye Bye" had the guys as marionettes being controlled by a really pretty girl. And then they were chasing a girl on top of a train. Regardless, this song was all about the dance moves. Every '90s girl knows this dance, and who can resist saying "bye bye bye" by opening and closing the hand at the words? Even though they might have said sayonara, this was just the beginning for one very lucky member.
[youtube=http://www.youtube.com/watch?v=Eo-KmOd3i7s]
2000-Justin and Britney Go Matchy-Matchy at the Grammys
By this time, JT was going steady with pop princess Britney Spears. They were so adorable together, they even wore matching denim outfits to the Grammys. Life could not get any better for this musical power couple.
2001-Pop
But before the group parted, they were singing about "dirty pop" and not worrying about what others think of them on their third album, "Celebrity". Oh, and at the end of the song, you can hear JT beat boxing. Can you say foreshadow?
[youtube=http://www.youtube.com/watch?v=TWZKw_MgUPI]
2002- Justified
Justin released his first solo album, and it was amazing. No, amazing doesn't even describe it. It had Grammy all over it. His first single, "Like I Love You", made its way to my summer mix CD at camp, when I first learned how to us iTunes. His rap-sing and rich falsetto was enough to make any girl's heart melt, and it was weird to think this was the baby-faced blondie we saw just four years ago.
2002- Cry Me a River
Alas, all good things must come to an end. At least that was the case for Brit and JT, who broke off their relationship after she cheated. Justin was heartbroken, and what better way to channel the feeling than with a breakup song? The vid had an eerie Britney look-alike, and JT showed she should have never called it off. By the way, he received a Grammy for the song.
[youtube=http://www.youtube.com/watch?v=DksSPZTZES0]
2003-2006 Justin Dates Cameron Diaz
Another pretty blonde…must be his type.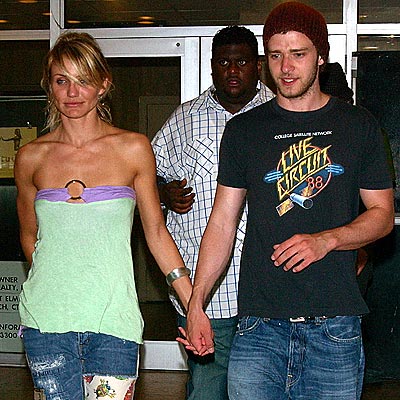 2006- Future Sex/Love Sounds and SexyBack
On his second album, Justin brought sexy back. Yes.He.Did.
[youtube=http://www.youtube.com/watch?v=3gOHvDP_vCs]
This was a more upbeat album from JT, and he certainly avoided the sophomore slump. Rather, he soared. By this time, we see a more dapper JT, having traded the tracksuits and blond locks for suits and a buzz cut.
Meanwhile, at the other end of the *NSYNC spectrum, co-boy-bander JC Chasez tried (and failed) to put out a solo album and compete with JT. But JT proved he could transition from pop ditties to R&B tunes. This was the last time we had seen of JT's own music career.
2006- D*ck in a Box
Justin hosts Saturday Night Live as both host and musical guest. During the appearance, he and Andy Samberg perform an R&B-type song for the skit "D*ck in a Box", which won an Emmy Award for the segment.
[youtube=http://www.youtube.com/watch?v=3gOHvDP_vCs]
2006-William Rast
Justin takes a break from music and turns his attention to fashion, creating a line of premium jeans, jackets and tops with Trace Ayala, which they called "William Rast".
2007-2012 Musical Collaborations
JT did his fair share of collaborations, from Madonna ("Four Minutes") to T.I. ("Dead and Gone"), but still nothing musically on his own.
[youtube=http://www.youtube.com/watch?v=bHHUhcV2eVY]
2007- Justin Takes Acting
Justin ventured into the acting world again, this time acting in indie films (Alpha Dog, Black Snake Moan) and a few poorly received comedies (The Love Guru).
2007-Shrek the Third
Justin lends his voice in the third installment of Shrek, this time playing Artie, the teenage prince and heir to the throne.
2007-Justin Dates Mary Camden, Er, Jessica Biel
Just out of left field, Justin begins dating brunette actress Jessica Biel, and gets girls to thinking that maybe blond isn't his color. She hadn't starred in any movie with him nor had any singing ability, so it kind of felt like she came from left field.
2009- Justin named GQ's Most Stylish Man in America
I'm not surprised…
2010-The Social Network
Justin proves he has serious acting chops as Sean Parker, founder of Napster, in the critically-acclaimed movie about Facebook.
2011-Bad Teacher and Friends with Benefits
Justin acts in a few more films, like Bad Teacher with ex Cameron Diaz and Friends with Benefits, by far the funnier and better version of a no-strings-attached relaysh than "No Strings Attached" with Natalie Portman.
[youtube=http://www.youtube.com/watch?v=iJS-wWqVAyk]
2012-Justin Gets Married
Justin broke hearts everywhere when he announced he was engaged to Jessica Biel. But in any case, the two happy lovebirds got hitched in October in (where else?) a castle in Italy. And Jessica wore pink. On the cover of People magazine, JT and JB reel in the love, while a frowny Britney spears attempts to steal their thunder in the corner. Maybe she was mad that she wasn't invited. Or maybe because she should have been Mrs. Justin Timberlake.
2013-Suit and Tie
Hearing the song for the first time feels like Justin never left. The song has a bluesy vibe and a mature sound. And he collaborated with Jay-Z. You know it's going to be good.
[youtube=http://www.youtube.com/watch?v=cJzRZ0T5ewc]
So yes, I'm ready. I'm ready for the new era of Justin Timberlake. Are you?